ABOUT NSMN
MEMBERSHIP
CHAPTERS
CUSTOMER SERVICE
CONNECT

Board Member News
NASCAR PROMOTES NSMN NATIONAL EXECUTIVE BOARD MEMBER STEVE PHELPS

NASCAR IS A PATRON MEMBER

STEVE PHELPS assumes the new role of Executive Vice President and Chief Global Sales and Marketing Officer at NASCAR. The business areas that he will oversee include Global Marketing, Partnership and Series Marketing, Business Development, Integrated Marketing Communications, Licensing & Consumer Products, and NASCAR Digital Media. He will continue to serve as NASCAR's top Officer in the Charlotte office. Congratulations Steve! Read more
| | |
| --- | --- |
| | NORTH TEXAS CHAPTER BOARD MEMBER JON DRAGO SELECTED TO GO TO RIO! |
Longtime AT&T Bryon Nelson Tournament Director JON DRAGO has been named one of three PGA of America-trained rules officials to oversee the men's golf competition in Rio. What an honor!
CONGRATULATIONS TO NSMN NATIONAL BOARD MEMBER JEFF SHIFRIN NAMED CEO OF CSM NORTH AMERICA



CSM IS A PATRON MEMBER OF NSMN

JEFF SHIFRIN, President, Octagon has left the agency after 18 years to become CSM's CEO where he will oversee the worldwide agency's North America business. A key focus of Shifrin's role at CSM will be further building its consulting capability in the U.S., complementing the agency's international consulting services to support both its global client brands based in the U.S. and those outside but active in North America. Shifrin will also lead and develop CSM's Activation and Delivery business areas in the U.S. including JMI and JHE. Shifrin began with CSM on August 1 and he will report to CSM's Chairman, North America, Harlan Stone, who he worked with previously and CSM Group CEO Zak Brown. Read more
| | |
| --- | --- |
| | NSMN BOARD MEMBER & 49ers COO ETHAN CASSON NAMED PRESIDENT & CEO MINNESOTA TIMBERWOLVES |
ETHAN CASSON is familiar with both the Wolves and the Twin Cities, having served a previous stint from 1999 through 2010 with the Wolves, rising to the level of senior vice president. Hired by the 49ers as vice president of corporate sales in 2010, he was promoted to chief sales officer in 2013, to chief revenue officer in 2014 and most recently to COO. Congrats Ethan!
CONGRATULATIONS BRAD MAYNE!

NSMN Board member BRAD MAYNE, President & CEO, MetLife Stadium, has been named President & CEO, IAVM -- the International Association of Venue Managers. Brad will be based in the North Texas-area and he is rejoining the North Texas Chapter Board. Congratulations!

Connect
News & UPCOMING Events

November 11, 2016
8:00-11:00am

Member Event

Networking Breakfast,
Presentations &
Panel Discussion
Reservations will open soon.
All members welcome.
Complimentary admission

NYC
Additional events will be posted.
For more information, please call 212-227-1300.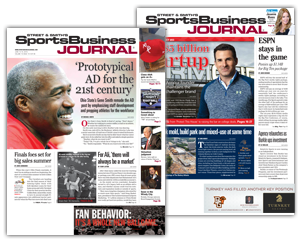 Read what the leaders in sports business read!
49 issues a year featuring comprehensive and original
reporting from more than 80 reporters, editors and
guest columnists with:
-Weekly in-depth reports on key industry segments
-Original research and expert opinion
-Profiles of newsmakers and industry leaders
-Online access to SBJ's website
-Access to 14-plus years of online archives

Retail Price: $274 / year

NSMN MEMBERS SAVE $55

NSMN Price: Only $218 / year




Special rate applies to new subscriptions and renewals.
Discount available to NSMN members only.
SPORTS COMMUNICATIONS INDUSTRY VETERAN BRET WERNER APPOINTED TO NEW YORK CITY CHAPTER BOARD





MWWPR IS A CORPORATE MEMBER






BRET WERNER is MWWPR's Chief Client Officer, leading strategy, growth and best practices across the agency's eight offices and 240 employees, and ensuring client success at all levels. He serves on the agency's executive committee and reports directly to President & CEO Michael Kempner. Prior to joining MWWPR, Werner co-founded Catalyst, a communications agency specializing in sports, active lifestyle and entertainment, where he spearheaded the agency's win and retention of deep relationships with global brands such as Subway Restaurants, Under Armour and Dick's Sporting Goods. Catalyst was a three-time PRWeek agency of the year for its category size, and Werner's accomplishments led him to being named one of PRWeek's 2011 "40 Under 40." After seven years as an independent agency, in 2012, Werner helped drive the acquisition of Catalyst by IMG. READ BIO